Welcome to Montana Sanity, our Glacier Vacation Rental Cabin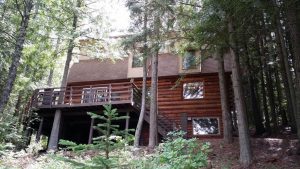 Montana Sanity is our private log home vacation rental cabin located on beautiful Spoon Lake. Those seeking a peaceful escape to the woods of Northwest Montana love the tranquility of life on the North Fork, a river corridor that forms the western boundary of Glacier National Park. At Montana Sanity, you will find a well equipped cabin, ready to provide the ideal base camp for your getaway adventure. This is our only lakefront property which offers privacy and the chance to live like a local while you visit the Flathead Valley, Montana.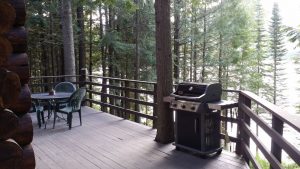 A stay on the North Fork places you at the intersection of civilization and the great, wild outdoors of Montana. Just a quick drive on a paved road delivers you to the city of Columbia falls, where two grocery stores, restaurants, antique stores and more await. Or head north instead to the remote off-grid village of Polebridge, where you can bring home a bakers dozen of hand made cookies and hucklberry bear claws. An easy drive to Blankenship bridge can have you fly-fishing the unfettered waters of the Flathead River system, just below the confluence of the North and Middle forks.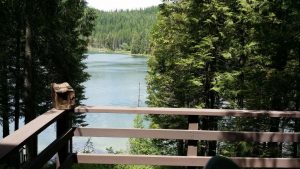 If you dream of an immersion in Glacier National Park, and the comforts of home to start and end your days is important too, then you have found the perfect vacation rental at Montana Sanity. Our 3 bedroom, 1.5 bath log home can accommodate up to 9 guests. 4 night minimum stay required.
Click any photo below to start the slide show!
Get away from it all amid the cozy rustic charm of this hand crafted Montana log cabin, surrounded by the grand mountains and forest of western Montana. Your stay comes complete with peace of mind while you rejuvenate your spirit and get back your sanity. Located next to Glacier National Park and only 7 miles from Columbia Falls. Drive or Hike through scenic Glacier Park, take a trail ride, paddle the rapids, or just relax by the lake. The kids will love the water slides, glacier maze, and mini-putt amusement park. Mom and dad will love the Montana Coffee Company! Or just sit and relax.
However you choose to spend your vacation, the log cabin by the lake means coming back from your adventures to a place you can call home. Your home away from home consists of a bedroom with queen bed in back part of loft, and with a full bed in front part of loft. Daylight/walkout basement level has queen bed and full bed along with half bathroom with washer and dryer. Second Floor is where kitchen,dining, and living area are located. Large open deck with table,chairs, and gas grill awaits you.